Hi Ladies... I was just about to post something on twitter about how much I love certain products, then I realised I havn't posted for a while so would be fun to do a "must have" section of my daily routine, finally at 26 I have found my perfect products for a perfect daily routine.... would be interesting if you can comment and suggest some nice products!
anyways, my must haves (in order!)
1. This is actually the night before!
My Boots Microdermbrasion Kit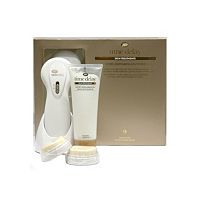 Now this is AMAZING! you might think its just the same as exfoliating, but its really not... I actually forgot to do it for a few days and my skin starting playing up! Do this at night before you go to sleep or when your chilling watching tv, you will love how your skin feels!
then i sleep of course..... and my daily must haves
2. Touch & Glow by Soap & Glory
Soap & Glory make awesome products with great packaging and not too expensive, available at Boots also this is a moisturiser with tanning beads! as you rub the moisturiser you burst little beads full of, well brown stuff that makes your face glow! not only does it moisturise your skin but it makes me use less foundation!
3. Mac Studio Fix foundation
Ive tried pretty much all foundations from mac and a zillion others from other companies, and nothing felt good on my skin and every one of them had a problem, too think, left orange marks etc etc you know the drill, but studio fix is great! light, but pretty good coverage, I dont have amazing skin and im prone to break outs and its pretty good at covering imperfections but when I dont have any, couples with my Good to Glow, this product looks great!
ps. I love my mac brushes!
4. L'oreal Lineur Intense Liquid Eyeliner
I pretty much steer clear of liquid liner's I can never get both eyes looking the same, i dont have a steady hand, and im not even sure it suits me! My Boyfriend was trying to be cute and he brought me some new make up and this was one of the things (some woman behind the desk in Debenhams recommended it!) he got me..
Now this is pretty cool! its not really distinct when you wear it its kind of subtle, which i liked from a liquid liner, its not all wet etc its like a pen, it only comes in 2 colours but both are pretty and it looks all shimmery when you put it on!
5. Shroom Eyshadow by Mac
This is not just an eyeshadow for me, I totally overuse this! I use it for an eye shadow pretty much everyday, its light its shimmery, its suitable for wherever your going! but I also use it as a highlighter, putting my big fat mac brush in it and highlighting my face! I love this product :)
6. Estee Lauder Eyelash Primer
I cant praise this product enough, sold it under duress by one of those pesky women in stores that force you to buy 10 things when you wanted one.... but im glad she did this is great-you put it on before your mascara and it actually nourishes and legnthens your lashes.
7. Maybellines collosal volume Mascara
I HATED the old maybelline mascara the pink one with that hideous lid even the way it looked was terrible, everyone used to rave on about it but all it did was clump up my lashes till it looked like that brush you clean chimneys with! with isnt a good look and also wasnt featured on the ad ;) But due to some money issues I had to budget and buy a cheaper alternative to the mascara I usually buy and i didnt know what to get and thought it give this new product a try! now this is WONDERFUL I am fussy when it comes to mascara but this really is a nice product - no clumping no spiders! just long single lashes!
8. Evian Water Spray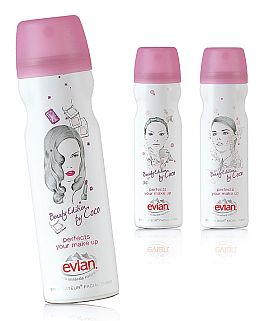 I just like to keep this in my handbag, spray my face every now and again, its refreshing and helps to hydrate your face, also as long as you dont rub the water round your face I feel it helps my make up last longer!
9. Matrix Oil Control Treatment
This is also always in my handbag, Now this supposidly helps you if you have greasy hair... now I have to wash my hair everyday bevause if i dont by the afternoon of the second day my hair is just gross! now this product doesnt stop that but if I was my hair at night by the afternoon of the next day its starting to get a bit limp.. now this product allows me to spray a little on my hair and it helps reduce the grease, I havnt fully allowed it to show me what it can do as I HATE having greasy hair, but it does help, If I can wash my hair the night before and just spritz this on in the morning or when i start to see its looking wet (lol) i can spray this on, and for that I love it!
10...... actually not really sure i need a 10 :)
Feedback ladies... need some recommendations!